Visit Our First Virtual Health Fair!
Take a tour of the new Beaufort Memorial Okatie Medical Pavilion in our Virtual Tour, and browse virtual "booths" for information about a range of health topics, from cancer care and heart health to women's health, men's health, joint pain and more.
A New Home for Quality Health Care
Our new 70,000-square-foot medical pavilion will bring board-certified providers and advanced care closer to residents who live south of the Broad River. The new center will house a variety of specialties — from primary care to rehab to lab and imaging services — a new Beaufort Memorial Express Care and Occupational Health location, and the New River Cancer Center, the newest addition to our leading-edge cancer program.
Advanced Care for a Growing Community
Southern Beaufort and Jasper counties are some of the fastest growing areas in our region. Community members in these areas need the comprehensive, multispecialty care we will offer in the Okatie Medical Pavilion.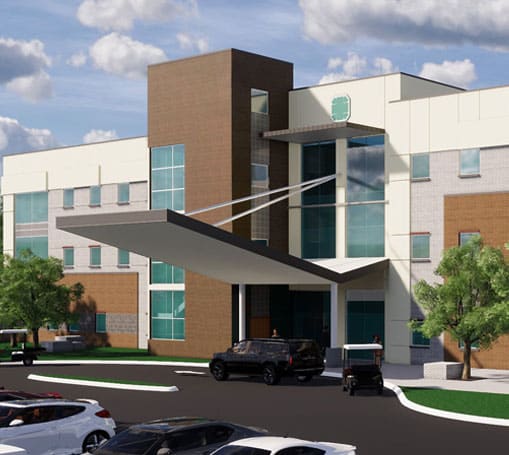 Come See Us
Okatie Medical Pavilion
122 Okatie Center Blvd. North
Okatie, South Carolina 29909
843-706-8660
Come See Us
Okatie Medical Pavilion
122 Okatie Center Blvd. North
Okatie, South Carolina 29909


1944
Beaufort Memorial Hospital opens its doors.
2006
Beaufort Memorial opens Bluffton Medical Services, its first office in southern Beaufort County.
2009
Bluffton Medical Services triples in size to accommodate more physicians, a rehab center, digital mammography and other services.
2011
Bluffton Medical Services grows by another 4,000 square feet.
2012
Beaufort Memorial realizes even more space is needed to meet the community's needs and purchases 20 acres for the Okatie Medical Pavilion.
2019
Beaufort Memorial breaks ground on the Okatie Medical Pavilion.
2020
Okatie Medical Pavilion opens, with plans for 16 practices.
Floor One
• Beaufort Memorial Express Care and Occupational Health (our Bluffton clinic will remain open on Burnt Church Road)
• New River Cancer Center, our second full-service cancer center that will feature medical and radiation oncology specialists and a nine-bay infusion center

• 

Breast Health Center, with access to screening and diagnostic mammography, diagnostic ultrasound, and bone density scans

• 

Imaging center with CT, X-ray and cardiac stress testing

• Laboratory Services

• Cardiac Rehabilitation

Floor Two

• Orthopaedic Specialists

• Outpatient Rehabilitation

• Coastal Neurology and Memory Center for people with dementia

• MUSC Health Multispecialty Providers




Floor Three




• Bluffton Primary Care 
• Obstetrics and Gynecology Specialists

• Multispecialty care, which will relocate from its Westbury Park location, featuring gastroenterologists, gynecology, heart specialists and consultations with vascular and surgical specialists 

 

Beaufort Memorial is actively protecting patients and staff during the coronavirus pandemic. Read our commitment to you to learn what you can do to stay safe and get the latest information and resources.